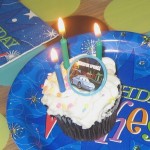 My biggest little boy turned three last Friday! Thursday night we went to Walmart to get cake. Actually it was to get $100 worth of groceries, but to the birthday boy, it was really all about the cake. Chocolate cupcakes, to be exact, with "Cars" theme rings pressed into mounds of cheap pasty buttercream. He insisted on carrying the plastic box himself and began to query incessantly "Is it cake time?" the minute we got home.
The next morning, Jaron was knocking on our bedroom door before 7am announcing, "It's my birthday!" We sang "Happy Birthday" in harmony as we shuffled out of bed. He asked about the cake again.
So we lit up the candles and sang another round of Happy Birthday right after breakfast! (Then we had another round of lighting the candles and blowing them out so I could get better pictures. Surely I'm not the only Mama to do this?) And then, on to the main event as far as the birthday boy was concerned. Cheap pasty buttercream. He took his time licking all the rainbow-sprinkled frosting off the top of the chocolate dome, took about one bite of crumbly cake, and said he was done.
Time for the presents. Hearing his shrieks of glee at a toy squeezy frog and "Cars" kneepads, I regretted not having the video rolling. But I did capture his unbridled joy at unwrapping a sandbox toy, and his ear to ear grin when he realized his new underwear matched the "Cars" shirt he was wearing. I will miss these moments when he grows up!
Well we had pretty much a normal day after that, while he played incessantly with his new (used, don't tell him) Tonka talking dump truck I got at our MOPS toy exchange. "It farted!!" he exclaimed when it made a snoring sound going into sleep mode. The next time, "It burped!" That's a boy for ya.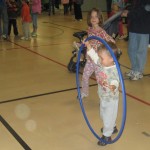 That evening in lieu of a party we went to Linton Elementary's school carnival – even better than a birthday party because it only cost $6 for game/snack tickets for him and his sister. They had a blast wandering from station to station throwing rings at pop bottles and hula hoops at stuffed animals, sword fishing over a curtain, tossing toilet paper rolls into a fake toilet, scoring soccer goals with a giant beach ball – all along bagging a prize collection of tootsie rolls, suckers, bracelets, and plastic spiders and frogs. They hopped onto numbers in the cake walk, hugged Melody's kindergarten teacher, and munched on popcorn with tongue, teeth and lips stained blue from cotton candy.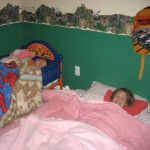 But the festivities didn't end there! That night, Jaron begged for Melody to have a sleepover in his room. They've never done that at home, although last fall they shared a big futon on vacation in Singapore. So I dragged Melody's mattress off her bed and plopped it on the floor next to his. The next day Melody, roused far earlier than her norm, reported that the brother kept talking and waking her up when she was trying to fall asleep. It must have been true because they were both out of bed to use the bathroom an hour after the lights went out.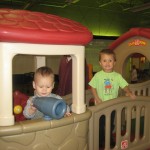 Regardless, they must have gotten enough sleep to store up some reserve energy because they showed no lack of it after lunch at KidzFit, a play area with inflatable jumping castles and slides, wii consoles, arcade games, a rock climbing wall, and a variety of other kid-friendly mischief. We had free passes earned in the Poudre Library summer reading program last year.
A couple of hours later we snagged Jaron en route racing (for about the hundredth time) from the exit back to the entrance of a huge inflatable obstacle course with a giant slide at the end. The grown-ups were tired! Back home, the rest of the cheap pasty buttercream smothered cupcakes disappeared and the birthday festivities officially drew to a close. Off to play with the talking dump truck again!